Happy October 1st! As we all know, Halloween is coming up very soon! Now if you're anything like me, you're probably running around looking for a costume to wear on this fun holiday. And while costume shopping can be fun, it can be extremely frustrating as a plus size woman! Especially in a small town like Gainesville. A lot of costume stores don't cater to full figured women and the costumes they do make in larger sizes tend to fit awkwardly.
Due to the limited quantity of plus-sized Halloween costumes many costume stores hold, I figured that it would be the perfect time to think of some DIY Halloween costumes! Creating your own costume is a great way to create the look you desire for your costume while still looking cute and comfy! (And if you head to Claire's or stores similar a few days before or even on Halloween the items will be at a discounted price!)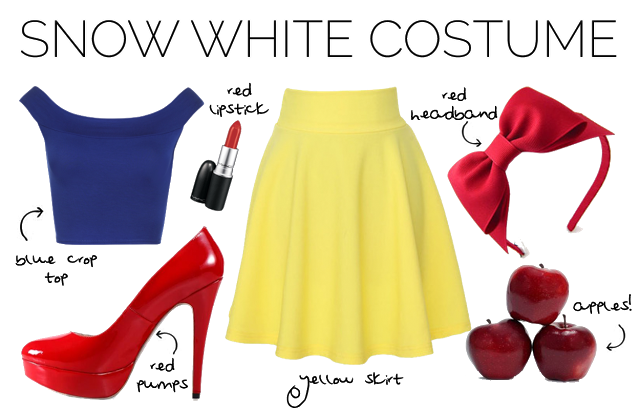 Pick your favorite Disney character and make an outfit that resembles their own! While this may seem difficult, it's a lot easier then you'd think. Dressing up as Snow White would be the easiest in comparison to the other Disney princesses. The costume doesn't require much and some of it you might even already have in your closet! What you'll need is a yellow skirt, a royal blue top (or royal blue dress that is shorter than the skirt), red pumps and a red bow. And if you want to really play the part of Snow White, you can grab an apple to bring along with you also!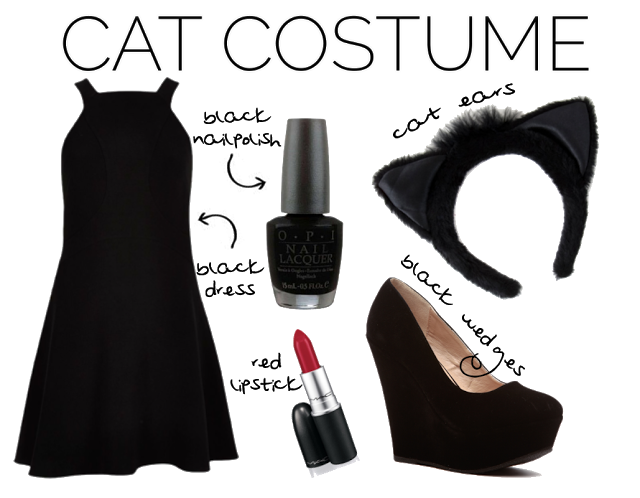 Dressing up as a cat is simple yet still an adorable way to celebrate Halloween. You can go to a local Walmart, Target, Claire's, or any other type of store that sells Halloween attire and pick up the set of cat ears and a tail. If you're for more of a cute look, find a black flowy dress that suits you nicely and pair it with some flats or your favorite heels. If you're going for more of a sexy look and are comfortable wearing something a bit more snug, grab a black body con dress or a black jumpsuit and wear that with your favorite wedges or pumps. You could even grab a fitted black tank top and pair it with fitted black skinny jeans and rock it that way.
Because dressing up as a cat is very simple, if you're trying to enhance the costume grab a black eyeliner and draw a cat's nose and whiskers on your face. Black nails will rap up this look nicely.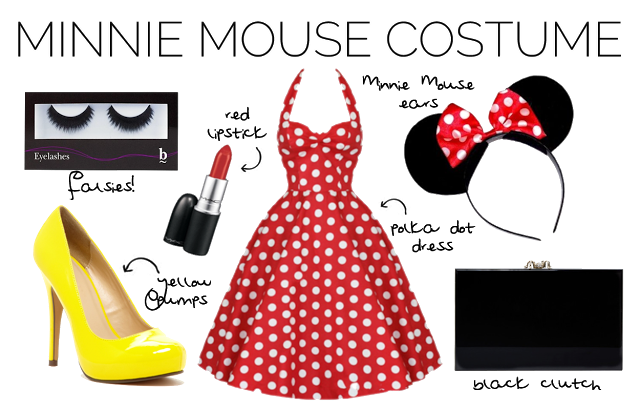 Minnie Mouse is a particularly easy costume for those who live in the Sunshine State because chances are, you already own a pair of Minnie Mouse ears. You could do this costume a couple of different ways. First thing you'll want to do is pull anything black and red (or pink and red depending on what color the bow is in your Minnie Mouse ears) out of your closet. Because dressing up as Minnie Mouse can be done in various ways, it's up to you to decide what you want to pair with what. You could wear a black top with a red skirt and throw on some yellow or black heels or booties. If you own a red/black dress, pair it with yellow pumps and red lipstick and you'll be good to go. Those are just a couple of ideas but I'm sure once you start trying different things on you'll find what suits you best.
I've always been a huge fan of the movie Greece, so I've decided to throw this classic in here. And while you could dress up as the "good girl" Sandy from the movie, I prefer "bad girl" Sandy. She's more fun and her outfits are great. Once again, you may own a few of these pieces already which makes dressing up as Sandy that much easier. Pull out your black leather jacket, grab your off the shoulder black top and black leggings, slide into your red pumps and make those lips look extra kissable with some bright red lipstick and you're good to go. If you decide to wear black jeans or black leather pants instead of leggings, be sure to throw on a black belt with it also.
I hope these ideas have helped. Let me know what you're going to be for Halloween this year!