Happy October 1st! As we all know, Halloween is coming up very soon! Now if you're anything like me, you're probably running around looking for a costume to wear on this fun holiday. And while costume shopping can be fun, it can be extremely frustrating as a plus size woman! Especially in a small town like Gainesville. A lot of costume stores don't cater to full figured women and the costumes they do make in larger sizes tend to fit awkwardly.
Due to the limited quantity of plus-sized Halloween costumes many costume stores hold, I figured that it would be the perfect time to think of some DIY Halloween costumes! Creating your own costume is a great way to create the look you desire for your costume while still looking cute and comfy! (And if you head to Claire's or stores similar a few days before or even on Halloween the items will be at a discounted price!)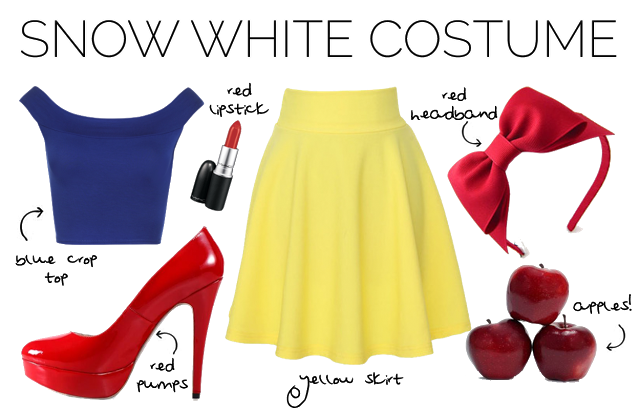 Pick your favorite Disney character and make an outfit that resembles their own! While this may seem difficult, it's a lot easier then you'd think. Dressing up as Snow White would be the easiest in comparison to the other Disney princesses. The costume doesn't require much and some of it you might even already have in your closet! What you'll need is a yellow skirt, a royal blue top (or royal blue dress that is shorter than the skirt), red pumps and a red bow. And if you want to really play the part of Snow White, you can grab an apple to bring along with you also!