Happy Wednesday! I have always wanted to do a fun "What's in My Bag" post or video on Youtube but didn't actually start carrying large purses until recently (and when I say recently, I mean within the past few years). When I was younger I would typically just carry my phone and money in hand or I'd grab a Vera Bradley lanyard and ID case and shove everything in there. More recently, I've been known as the "bag lady." I'm the friend who always has a purse with me regardless of where we're going.
Purse: The purse is a Kate Spade Newbury Lane Loden. I had been eyeing this purse for quite some time before purchasing it in October when Kate Spade was having one of their surprise sales. I typically go for larger bags but thought this one was absolutely beautiful.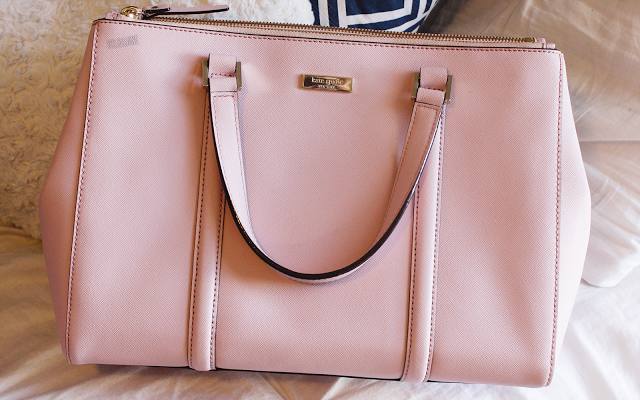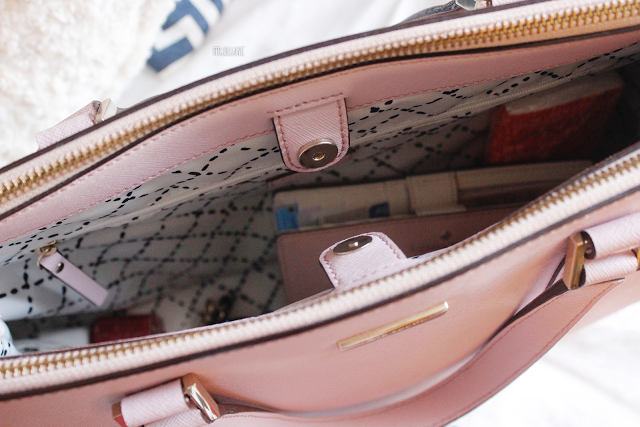 While I frequently change which purse I'm using, the stuff inside usually remains about the same. I rotate a lot of this stuff between purses and my backpack (which I use to walk around campus and for class).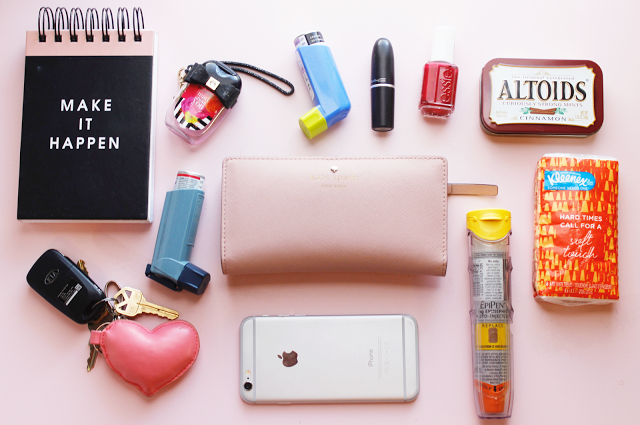 1. Make It Happen Notepad: I'm not going to lie, I don't use this that often. When I do use it I'm typically jotting down little notes or things I need to remember. Sometimes I'll use it to write down groceries that I need but I usually use my phone for that. This was a gift but it was from Home Goods.
2. PocketBac Hand Sanitizer: I always always always carry a hand sanitizer around. It's not too often that you catch me without it. Both the hand sanitizer and the holder are from Bath & Body Works. As soon as I saw the holder I knew I had to get it.. It reminded me of Kate Spade! I have (another) Kate Spade wallet that looks just like it.
3. Car Keys: These are kind of essential.. ESPECIALLY in Florida. I have two sets but this is the set I carry around most frequently while at school. The other set is a bit clunky. I got the keychain holder from H&M.
4. Inhaler(s): The most important thing in my purse (besides my wallet) are my inhalers! Around this time of year my asthma/allergies get really bad so it's important that I always have them with me. The reason I have two is because one if just albuterol, which is just air, and the other one is albuterol with steroids (just incase the regular one isn't working well).
5. Wallet: I also got this Kate Spade wallet during their surprise 70% off sale back in October. I wanted the black one but that one wasn't on sale, so I grabbed this light pink one. I figured it would look cute with the pink purse.
6. Phone: Technically not an essential but it practically is. Don't know what I'd do without my iPhone!
7. Lipstick: For those who know me, you know that I ALWAYS have my MAC Cosmetics Velvet Teddy lipstick with me everywhere that I go. This is an essential. I wear it practically every day! I have over 25 MAC lipsticks and this is the one I'm constantly repurchasing. Don't know what I'd do without it.
8. Nail Polish: I always carry a nail polish in my purse but depending on the time of the year depends on the color I have. During the summer months I like to carry around more vibrant and brighter colors. During the winter I typically have a red or brown laying in my purse. This shade is by Essie and it's called 'Jump in My Jumpsuit'.
9. Mints: Because I'm like a little kid and swallow my gum I tend to not carry it around. A great alternative are mints!
10. Tissues: Used for a multitude of things! Usually for my stuffy nose or to blot my makeup though.
11. Epipen: Back to what I was saying about my inhaler(s), my allergies tend to be pretty bad around this time of year until about June or July. While I'm not severely allergic to a lot, I am super allergic to certain bugs. With flowers starting to bloom soon and bugs coming out of hiding it's imperative that I carry this around!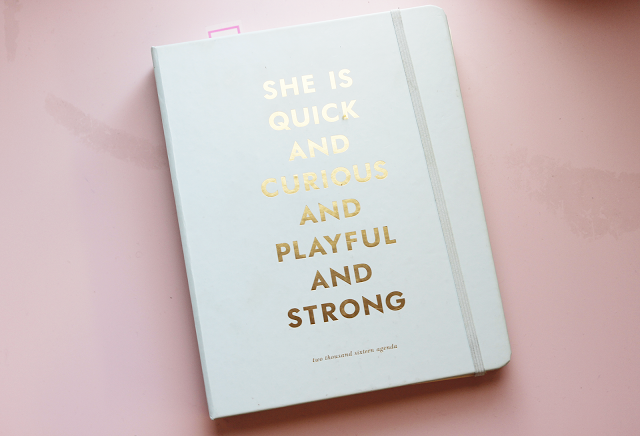 12. Planner: And last is my planner, which I couldn't fit into the other photo. I'm the type of person where If I don't write everything down I WILL forget! I mainly use it for school related things but will jot down the occasional doctors appointments and important birthdays. If you can't tell, this is also from Kate Spade. I might have an obsession.
There were a few items that I left out, such as lady products, my headphones and sunglasses but the items listed above are things that I almost always have on me. Let me know what's in your bag!